It's really quite peculiar, the current saturation of the fashion world with all things Alexander McQueen. One could debate the ubiquity of his name in books, exhibitions and social media has something to do with the fact that 2015 marks the five-year anniversary of his death, but I for one haven't seen that mentioned much at all. However, according to the age-old adage, 'too much of a good thing is never a bad thing', and this is particularly true of probably the most enigmatic designer of our time.
Things kicked off about a week ago with the V&A Museum's recreation of
Savage Beauty
* an exhibition on McQueen originally displayed at New York's Metropolitan Museum of Art back in 2011.
Its great success prompted a (rather late) sequel in London, wholly pervasive in its advertisement on the doors of our cabs, and the walls of our tube stations.
Literature on McQueen has also expanded substantially over the last few years, though in this case it proves more difficult to separate the wheat from the chaff.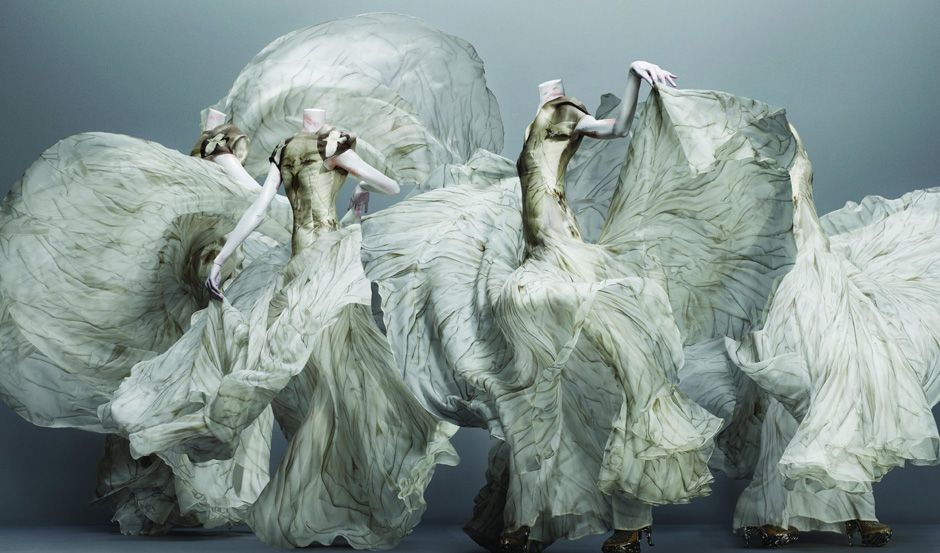 I must admit that I first became cognizant of this literary explosion while watching an episode of the
Business of Fashion's Breakfast Club
, in which Colin McDowell, Imran Amed, Paula Reed, and Mesh Chhibber discussed the recent phenomenon. Two books were discussed, the Andrew Wilson book that I've just finished reading, and Dana Thomas'
Gods and Kings: The Rise and Fall of John Galliano and Alexander McQueen
. Dismissing the Dana Thomas book in favour of the Andrew Wilson one for its greater focus, I went out and ordered the latter, eager to gain a more erudite knowledge of one of Britain's most audacious, recalcitrant, and beloved designers.
One of the most compelling reasons to read a book such as this is the fact that it intertwines the designer's work life and personal life.
Wilson uses this to great effect, managing to cover all of the major events in McQueen's personal and work life, while also bringing more obscure anecdotes to the table, stemming from personal conversations and interviews the author conducted with McQueen's family and friends.
This alone inherently elevates this book above the competition, but there are of course, yet more positive aspects.
My only personal lamentation is that it is written after the death of Isabella Blow, meaning she was unable to give comment.
Similarly, it does not make use of those close to her, such as milliner Philip Treacy, restricting itself to Detmar, her husband.
This book is concise, deeply informative, and incredibly well-written, adroit in its ability to keep the interest of any reader, whether or not they possess prior knowledge of the man's career. Not that making McQueen's personal character intriguing would be a great ask of any author; one thing that became quickly apparent to me was just how tortured this man really was. A masochistic lothario, McQueen partook in a less-than-voluptuary lifestyle, even after signing his £450,000 per year contract at Givenchy. McQueen grew up in a kind of desolation that could only belong to East London, and it clearly had a formative influence on his life, engendering prodigious spending even though he was personally dismissive of luxury. The sexual abuse McQueen suffered as a child is linked in this book to his later sex life, as was his belligerence in dealing with people, friend or foe. Indeed, Lee had watched his favourite sister beaten voraciously by his brother-in-law. When accused of misogyny by one of his critics, he snapped, recounting what he had grown up with, claiming that his aim in designing was to be afraid of the women he dressed. Concomitantly, it is revealed early in the book that this was the inspiration behind McQueen's use of battered and bloodied catwalk models, a decision he was criticised for because it was 'in bad taste'. Clearly then, as Colin McDowell posited, this book is not about fashion, it is about notoriety.
Along with his experiences of a child, Wilson documents McQueen's extensive drug use, and reveals shockingly that he knew he was HIV positive, yet elected to continue having unprotected sex, despite making charitable donations to various AIDS organisations.
Never shying away from controversy, the book also claims that
shortly before his suicide, that he was going to design his last collection then commit suicide during the show by placing himself inside a Perspex or glass box and shooting himself in front of the audience.

This debauched lens through which McQueen's life and career are viewed either detract or add to the value of the book, depending entirely on what the reader seeks to gain.

Those who know little about McQueen as a designer are not really the audience for this book, it is for those who wish to gain an intimate insight into McQueen's life, and the trials and tribulations it brought about. It serves as a beneficial companion to Savage Beauty, written to induce from us a heavy suspiration upon the realization that the fashion industry destroyed one of its own brightest talents.
What, then, can we gain from this book?

For one, we may take away the understanding that fashion is not frivolous, rather that it is largely engrossing, capable of arousing strong emotions when executed by such an iconic designer.

McQueen was one of the few creatives who was not fazed by the money, and created clothing that made women feel beautiful and strong, uxoriously thanking women, whom he claimed to be the true heroes in his life. The British do love an underdog, especially one who went from having nothing to owning a £20m brand, and perhaps that is what this book's appeal lies in.
Blood Beneath the Skin
depicts McQueen as he was, a genius who was indeed reprehensible at times, but a tortured soul, who deserves our sympathy and gratitude for all he gave over the years, and for all he lost.

The sole regret one could have upon reading this is that, given this book was written with the approval of the McQueen family, we may well never know the true extent of the horrors that bedeviled Lee McQueen's personal life.

Nevertheless, this book is an unflinching but wonderfully-readable account, backed up by fantastic research.

Indeed, as McQueen's sister claimed, this is the biography Lee would have wanted.
*Weirdly, 600 copies of Blood Beneath the Skin were ordered by the V&A to accompany Savage Beauty, but two weeks before the exhibition opened, the publishers were told that the museum had been asked not to stock any biographies.

The V&A have made clear that they do not wish to make known the less-glamorous aspects of McQueen's life, much to the consternation of Andrew Wilson.